Art: Van Gough; The Café Terrace on the Place du Forum, Arles, at Night, c.1888
Reason: The blue in the pumps really reminded me of all the different colors on Blue in the painting. The vivid blue in the pump and how blue in the main color in the shoes remind me of all the blues in the the painting and how it is the main color. Also, they yellow/gold of the wall is the accent color and how the gold studs and skulls are the accents on the shoes.
Art: O'Ke
effe;

Black and Purple Petunia, 1925
Reason: The main color in the O'Keeffe painting is this really pretty black-purple color that stood out to me. When I saw the dress I saw a similarity. When the color
scheme it thought this was a fabulous match. The mix of the colors where so pretty is both of the items. I don't know how to explain it, but it is a perfect match.
Art: Klimt;
The Blood of Fish, Published in "Ver Sacrum" Magazine, 1898
Reason: If you don't know this about me, I hate say always and every time, anything like that but, with full confidence, I can say

EVERY

piece of Valentino in any collection is a

work of art

. Obviously, the colors are similar because they are both black and white but the patterns of the waves in the Klimt painting are so thin exact. In the Valentino the line are so thin, and even if it doesn't seem like it, the lines are

precise

too, just not as

structured

.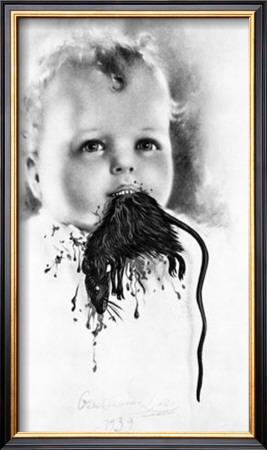 Art:
Dali;

Freud's Perverse Polymorph (Bulgarian Child Eating a Rat),
Reason: The colors are a match, no

explanation needed, but what really drew me the match these 2 works of art up is the "tail" in the painting for the "rat tail" and the feathers in the necklace. The painting draws your attention in such a way that makes you not want to look away, I feel like it is the same with the necklace. When I first saw the necklace on Saks.com I thought this was a work of art, as I think most beautifully made items are, but the necklace attracted me and pulled me in so much that I could look away, just like the painting. That is the main reason I matched these up.
I hope you guys enjoyed this post. I spent a lot of time on it and tell me if you want more posts like this.
XOXO
Anna