What is your name, blog, age, and grade you will be entering into?
What classes (or types of classes) are you taking this (incoming) year?
-I haven't received my schedule yet but I am hoping for some fun creative classes such as art or photography!
What is your school
environment
like? (public or private, catered to specific interests)
- I go to a public school and it is VERY small! About 140 kids total. But its great because you get to know everyone really well!
Do you have any particular interest besides fashion/blogging?
-I love traveling. Being able to explore different places and try new things is

fascinating

to me. I'm also a really big fan of shopping but that may fall under the fashion category :)
What extra-curriculars do you participate in?
-I play varsity basketball in the winter and I'm also a part of my school's Outing Club and Community Service Organization.
What is your favorite thing about school? blogging?
-The only thing I really love about school is being around my friends! They know how to make everything great...even a boring classroom. My favorite thing about blogging is probably sharing my ideas, thoughts and tips with others. I also love reading other blogs and connecting with different bloggers!
Do you know what you what profession you want to work in when you grow up? what city? Are you doing anything special to achieve that dream/ goal?
-I would love to work in Fashion Merchandising! The idea of doing something I love everyday is great. I would like to work

in

New York City or Boston but we'll see where it takes me. I have opted to take a special class this year in school for the business side of fashion so I am crossing my fingers that it will be on my schedule! I have also applied to Teen Vogues Fashion U because I think its a great chance to get a good glimpse at the industry!
Do you know what college you want to go to?
-I'm really interested In the Fashion Institute of Technology in NYC, so for now that is my main option.
Do you have an study tips/ how do you stay organized?
-I am

extremely

OCD about organization so everything I do for school is always organized. I just label everything and make sure my locker is always clean that way I know exactly where everything is!
Are you taking/ have taken the ACT/SAT? How did you study and handle the stress of it?
- I have not taken these yet but I will being taking them in October! I'm sure I'll be stressed and nervous but the best thing I can do is study hard and try my best! Also don't forget study
breaks and coffee!
What are you favorite things to read? magazines? books?
- I love magazines! I could look at them all day if you let me. But I do read books too. My favorite series right now is the Hunger Games!
How do you handle school. blogging, and extra's?
- Well I started this blog this summer so I
haven't
experienced

it yet but I always know that school comes first! Even when I play a sport I always have to focus on school because it's what is most important to me! However blogging is something that I love so I will always find a way to fit in everything!
Do you listen to any particular music when you are studying/ blogging?
-I love all music! It doesn't matter what I am doing, music always keeps me calm and relaxed, its like my own little escape while i'm in a room full of people!
What are you favorite Apps?
- I'm obsessed with Instagram! Its probably not healthy the way I use it soo much lol I am also a big fan of Pinterest and the Horoscopes! I like to read what my day may be like.
Do you have a mentor, someone who look up to for inspiration, or someone whose quotes you read a lot?
-I would say my mentor would be my parents and my sister. They are always there for me no matter what.
When it comes to the beauty/fashion world I would say that my inspiration would be Meredith. She is a beauty guru on YouTube and she is great with all things fashion and beauty.
Do you have a favorite quote?
-Yes. "Life is too short to be anything but happy." This is my motto! I always make sure I think of this when I am feeling down because its true! Sometimes we overthink things and make them a bigger deal then they actually are. We have to remember to always stay positive and think about how great tomorrow will be.
What are you must haves for school, blogging, and everyday life?
-My must have for school would be a bottle of water haha. I live off of water and without it I don't think I could make it through the day. For blogging I would say my camera! I always have it by my side because I love how good it takes pictures. For everyday life my beauty must have is my mascara! I love when my lashes look full and long, I think its completely feminine. Then for my everyday must have I would say my phone! I love having it with me because I always feel connected to the people in my life even when there millions of miles away!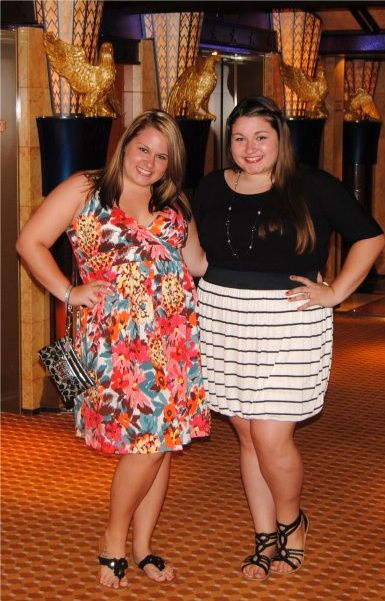 XOXO
Anna